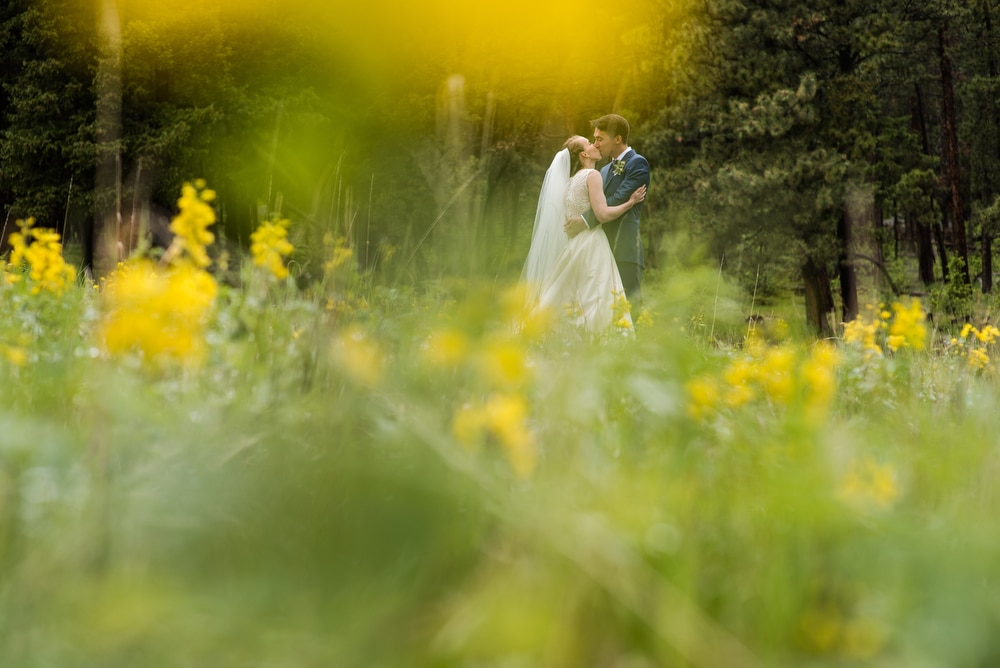 Evergreen Wedding at a Private Residence
Sometimes inclement weather pushes me outside of my comfort zone and makes me to shoot a wedding differently. It may force me to do a first look inside or to work quickly because impending weather gives me only a short window to fit in portraits of the bride and groom.
In the moment, it's super stressful, but I have to just roll with the flow because weather is definitely something we can't control. It brings a certain creativity to the day, and this wedding was no exception.
Harper and Nick gave up their control early on in the day of their Evergreen wedding. For a late June wedding, I've never seen the high – the HIGH – of the day be 47 degrees in Colorado. The radar showed rainclouds all day, and it was the one time meteorologists have been correct. We did get a few 30 minute reprieves from the rain to sneak in portraits, thank goodness.
The couple chose to get married at Harper's family ranch; a place that has given her whole family so many memories. It's a beautiful piece of property in Evergreen, complete with its own mountain. You don't have to be there long to witness the draw.
Harper's parents worked so hard getting the barn reception-ready. Thank goodness for all their hard work because it also doubled as the ceremony site for the day. Calluna Events turned it around and made the space even more beautiful with help from Keep Floral.
The barn gave their reception a cozy feeling, filled with loving toasts from siblings and parents. It also provided a great space for a raucous dance floor that was so much fun!
Never once did I hear Harper or Nick complain about the rain or the cold, or the change of plans. They are the most gracious, thankful people. It is a joy to be around them, and I can see why family and friends love them so! I am so happy for them!